The holidays are the perfect time to upgrade to Smart Lights. It's the time of year when we add festive colours like red and green into our homes. The more smart lights we have, the more creative we can get. When family comes over, show off your lighting display and control it through voice commands. If you want to get into the holiday spirit, now's the time to get yourself some smart lights. Let's begin with outdoor holiday lights, and work ourselves indoors. 
Outdoor smart lighting during the holidays
Back in my childhood, every year we would run Christmas lights across our deck railing and around the shrubs in the front yard. That was always fun to do with my dad. However, after New Year, he would make me take it all off and put it back into storage. That wasn't so fun. Smart Outdoor Lighting changes that. You install it once and leave it there all year. These lights are composed of small LEDs connected to a string. They connect to a WiFi controller and come with a companion app. When the holidays come around, use the app to customize the colours.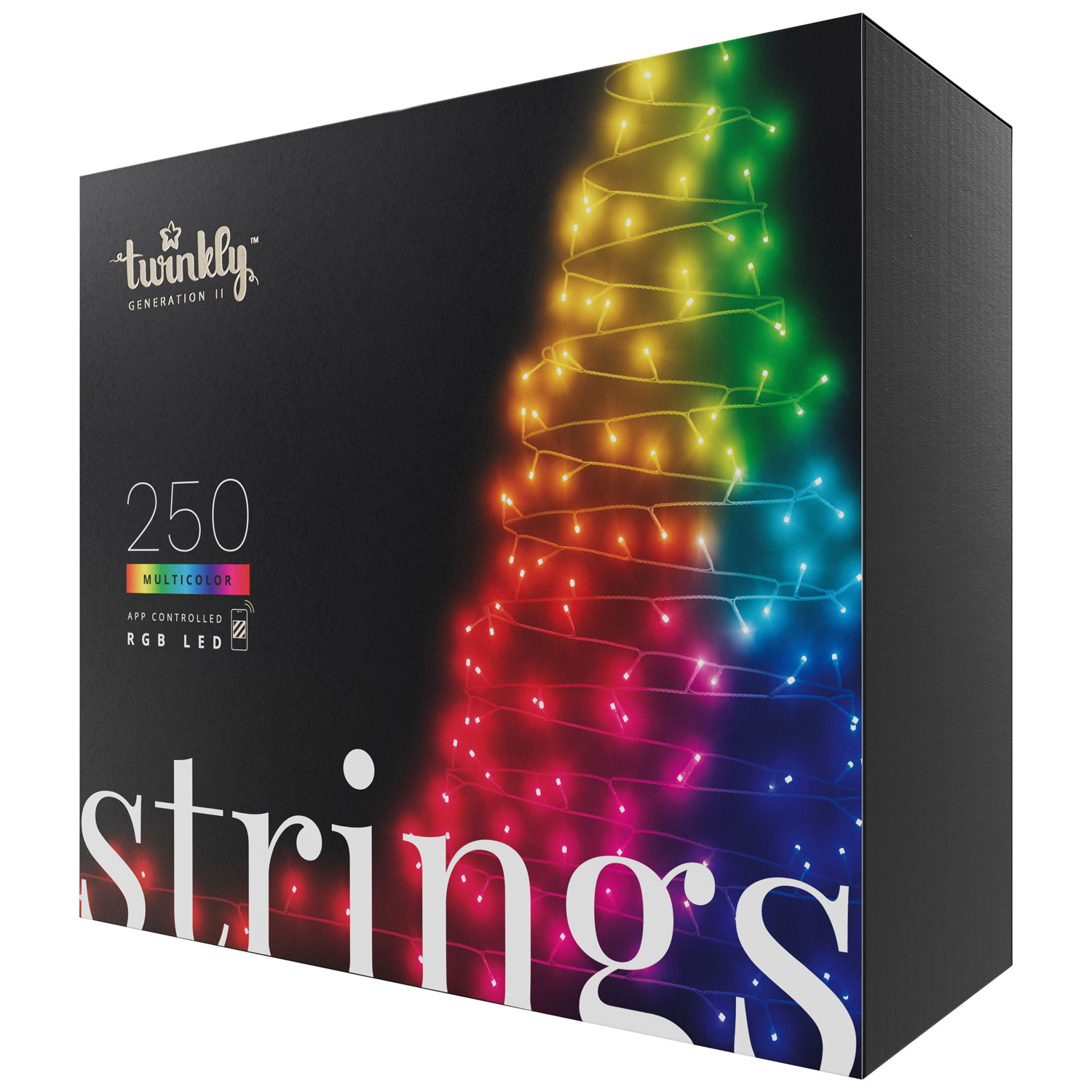 Twinkly Strings/Dot
The Twinkly Strings/Dot is exactly what you need to light up your outdoor pace. One way is to string it around a tree—indoors or outdoors. This RGB string light features 460 LED lights with 16 million colour options and effects. Users can connect it to Twinkly Music and make the lights react to music. If that doesn't impress your neighbours, nothing will. 
Decorate indoor spaces with light panels
Smart Light Panels provide endless creative expression to add holiday colours indoors. These are modular LED light panels that are installed on the wall and connected to a power outlet. They come in many different shapes and sizes. Users can make their own arrangements on the wall and control the colour through an app. It's a great way to entertain guests during the holiday. Install it in the living room, dining room, or wherever people gather.  
GE Cync Dynamic Effects Kit
For the holidays, I recommend the GE Cync Dynamic Effects Kit. This consists of 7 hexagon light panels and a neon-shaped smart light strip. It's exactly what you need to see the full potential of smart lights. With this kit, users can individually control colour segments and sync lights to music. This allows people to create multi-colour, holiday-themed light shows. These lights also sync to voice assistants allowing users to control them with voice. These lights are dynamic, hence the name. 
Holiday lighting with Smart LED Strip Lights
Out of all the various smart lights, I like Smart LED Strip Lights the most. I find them to be incredibly versatile, especially during the holidays. The secret is to install them so people can't see the lights themselves. Instead, you should only see the reflection of the light. For example, install LED Strip lights under tables, couches, and behind TVs. The light will reflect off the ground and the wall adding holiday colour to your home. When the holidays are over, switch the colours around. My tip is to install multiple Smart LED strip lights around a home and group them together. Then you can control them all from voice control, which is sure to impress your holiday guests. 
TP-Link Kasa 10M Smart LED Light Strip
Trust me on this next tip. If you're going to buy an LED strip light, buy a longer length than you think you'll need. That's why I recommend the TP-Link Kasa 10m Smart LED Light Strip. This provides you with a 32-foot light strip on a single power source. Install it under a bed, over cabinets, or under a stair railing. You'll be surprised how much light it provides. If it's too long, you can cut it too. It's the perfect way to light an indoor space with holiday colours. 
Adding holiday colours with smart bulbs
If you're new to the world of smart lights, start with Smart Bulbs. These look like traditional light bulbs with standard light sockets but do so much more. First, they are LED bulbs. They'll last up to 25,000 hours before needing to be replaced. Second, they can change to any light colour. Users can select a colour from an app or through a voice assistant. Third, they can be grouped together and controlled on a schedule. Set it so your holiday lights turn on after dusk and turn off at night. That way, all your holiday lighting will be automated so you can enjoy time with loved ones. 
Nanoleaf Essentials Matter Smart LED Light Bulb
To get the most out of smart bulbs, I recommend getting a multi-pack. The Nanoleaf Essentials Matter is a 3-pack of smart LED light bulbs. Use it to replace your current light bulbs. These bulbs can do traditional white lighting, but also any other colour. During the holidays, switch the lights to red and green. It will instantly transform your space and get everyone into a festive spirit. I recommend connecting it to voice assistants for voice control. Kids will love changing the colours with their voices. Set light groups so all the light can be controlled together.  
Light up the holidays with smart lighting
The holidays are the perfect time of the year to get into smart lighting. It's a quick and easy way to add colour outdoors and indoors. Users can set colour on an app, or with voice controls. Indoor light panels turn boring walls into interactive walls of art. Best of all, unlike traditional decorations, you don't have to remove them. Smart light bulbs act as traditional bulbs until you want to add colour to your space. LED strip lighting brings ambient holiday lighting into any room. With effects and music syncing, the possibilities of smart lighting are endless. 
If you are new to smart lighting, this buying guide will tell you everything you need to know. If you like holiday decorations, now is the time to brighten the holidays with Smart Lights.