70% of travelers buy more online today than they did before the Covid crisis in 2020. Knowing which action levers are relevant to promoting your hotel on the Internet, and how to activate them, has become a bigger challenge than ever before.   
As one of the most popular search engines used by Internet users, Google is working hard to improve the solutions available to hoteliers to help them reach as many travelers as possible. Here, we present some of the best free and paid Google tools to help you reach and convert travelers online.
What are the free Google tools for your hotel?
There are a number of free digital tools that can help increase your visibility at no charge, without being any less effective. With the help of the free tools listed below, you can reach more travelers at no extra cost! 
Use Google Free Booking Links 
Free Booking Links (FBL) are freely accessible links that display your official rate in the "All Options" category on your Google Business Profile. They are organic links that promote your official website rates on Google and increase your hotel's visibility.   
By clicking on a booking link, the traveler will be automatically redirected to the booking page of the booking engine linked to your website. This alone will have a positive impact on traffic to your official website.   
Google has identified a number of best practices you can implement to maximize the effectiveness of Free Booking Links and attract more travelers to your site:   
Make sure you have an attractive, user-friendly landing page that grabs visitors' attention. Simplify the buying process by clearly displaying prices and the room in question with a rapid-loading website so as not to lose travelers from slow load times.
Make sure that all your hotel properties are listed in the Free Booking Links, with regularly updated information (prices, availability, features, etc.). Also, check that the prices shown on the FBLs match the prices advertised on your official website. 
Create your Google Business Profile  
In addition to these free links, your Google Business Profile (formerly Google My Business) can help you gain visibility on the Internet. This is your hotel's identity card on Google. It brings together all the information that characterizes your hotel, making it visible and accessible in a single click.  
By optimizing your Google listing, you can attract up to 38% more interest from travelers. To do this, remember to add all your business information, a link to your website, and list your additional services. The more complete your listing, the more effective it will be.   
Having a Google listing also enables you to improve your local visibility by making your establishment(s) appear on Google Maps. Many Internet users search for hotels directly on Maps when doing their research; a complete listing allows you to appear there and increases your chances of being spotted and selected by a traveler.   
Last but not least, hotel guests can leave reviews, comments, and photos on your Google Business Profile, generating visitor engagement. Take advantage of this feature and generate even more comments and ratings by replying to these reviews.
Take advantage of analytics tools   
Of the free Google options that you can use to your advantage, the analytics tools are a great asset.   
Track your performance with Google Analytics 4  
An essential tool for tracking your online performance, Google Analytics 4 replaces Universal Analytics. More powerful, Google Analytics 4 analyzes visitors to your website, collecting online data from websites to understand the customer journey.
This enables the GA4 system to measure your performance, as well as the effectiveness of your marketing actions and more (content, services, etc.).  As a result, Google Analytics 4 is an excellent analysis tool that helps you make the best possible marketing decisions to increase direct bookings for your hotel.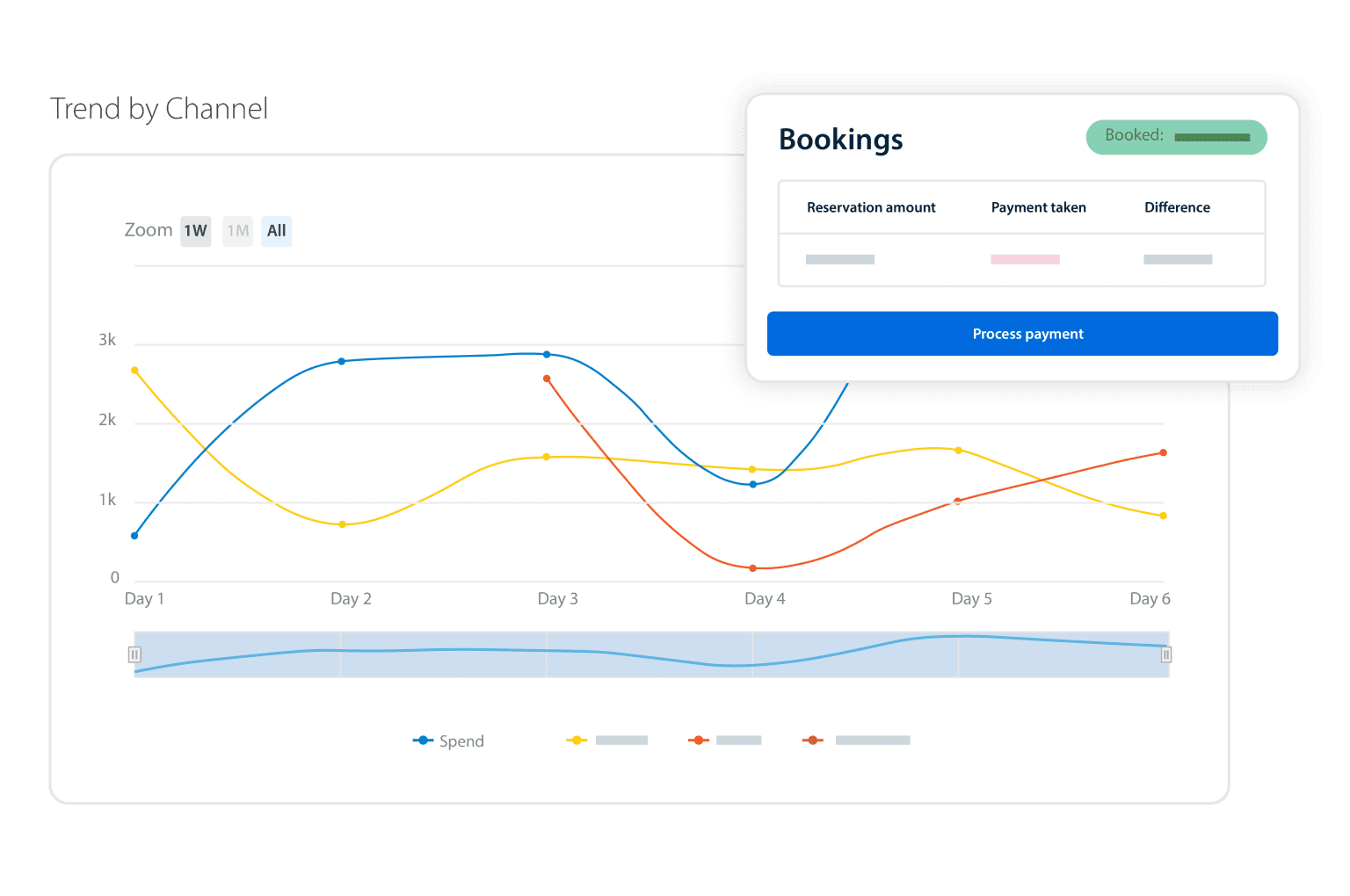 Track travel trends with Google Travel Insight  
Another analysis tool you can use free of charge, Google Travel Insight, collects data and analyzes travel trends according to world regions. This platform enables you to keep an eye on market trends, so you can adapt your decisions as a hotelier. In other words, it's a tool that provides real-time travel information, based on data gathered via Google search.
Google Travel Insight is broken down into several sub-categories:   
Hotel Insight: Analysis of regional trends. Find out where your customers are coming from and which countries' searches are most prevalent, to target the right audience.
Destination Insight: Assess interest in a specific destination. This easy-to-use tool keeps you up to date on global trends, with data updated daily.   
Fine-tune your advertising campaigns with the Performance Planner  
Finally, to fine-tune your different types of advertising campaigns via Google Ads (display, search, performance max, etc.), you can use the Performance Planner. This tool enables you to better plan and manage your advertising spend and see the impact of any changes you make to your campaigns on key performance indicators.   
It generates monthly and quarterly forecasts of your campaigns, so you can study possible results, seasonal opportunities, and suggestions for improvement. The Performance Planner is based on billions of search queries, updated every 24 hours. Thanks to this process and Google's AI, it simulates relevant bidding methods over the last 7 to 10 days, taking into account variables such as seasonality, competitor activity, and landing page. 
Available on a self-service basis, these three analysis tools have the ultimate goal of helping all hoteliers to know and understand the performance of their advertising campaigns and web pages to better drive their hotel digital marketing strategy and data-driven decision-making.
What paid Google tools are available for your hotel?  
Although the free solutions are effective, Google's paid services will enable you to significantly increase your direct revenues. By combining several of these tools, you can maximize your visibility with travelers and your direct bookings.   
Run a paid campaign with Google Hotel Ads   
Google Hotel Ads is a popular metasearch tool that makes it easy to attract direct bookings for your hotel. This tool helps promote your rates and your official website.  
Your ad will display the official room rate directly on your Google Business Profile in the Google Hotel Ads section, as well as on Maps and in the Google Travel "Hotels" section. The ranking of these links is based on a bidding method. Several bidding methods are available: 
Cost-per-click (CPC), you define a fixed bidding method per night or a percentage of the price of your room. This is a manual bidding method with a high level of detail and granularity.   
Cost per acquisition (CPA), you pay a commission on the date of purchase or on the date of stay (the latter is net of cancellations and no-shows). It's an automatic, performance-based bidding method that guarantees your cost of distribution.   
Free Booking Links (FBL), mentioned above as one of the free options available from Google.   
All these bidding methods can be combined according to seasonality, desired level of detail, or market, for example. It's up to you to choose or mix bidding methods according to your online revenue goals.   
Finally, you can launch Google Property Promotion Ads, the advertising solution of Google Hotel Ads designed to increase the visibility of your hotel. Through these ads, you can promote your hotel directly to potential travelers looking for accommodation in a specific location – your destination.   
Using advanced targeting and optimization techniques, these ads aim to connect hotels with their target audience, resulting in increased direct bookings. With Google Property Promotion Ads, you can optimize your hotel's online presence and attract more customers, helping to boost your turnover. 
Invest in Search Engine Advertising  
Search Engine Advertising (SEA), or paid search, is the purchase of sponsored links via keywords on search engines.   
The goal of this type of advertising is to bid on the right keywords in order to appear at the top of the search results. This usually leads to an immediate increase in visibility, as well as the acquisition of traffic and potential new customers.   
Before launching SEA campaigns, it's important to distinguish between the three different types of campaigns that exist:   
Brand protection: The aim is to protect your hotel name. These campaigns enable you to buy your brand name in order to capture qualified traffic and, above all, to fight against OTAs and other competitors.
Generic: Aims to increase your visibility by bidding on certain keywords and broad queries, to help you rise more easily in the results of a Google search such as "hotel + destination" or "hotel + service + destination".
Display: Our experts also place display campaigns in search ads. These are banner ads displayed on partner websites in the Google network.
There are several steps to follow when launching your SEA digital advertising campaigns:   
Define your goals and strategy 
Determine your budget and bidding method  
Write your ad copies   
Select the bidding method that's right for you  
Launch your SEA advertising campaigns  
Our experts are here to guide you through these steps to optimize your return on advertising investment and increase your visibility.   
Launch Performance Max for travel goals campaigns  
In March 2023, Google announced its new upcoming innovation: Performance Max for travel goals. Dedicated to the travel sector, it's the equivalent of Performance Max but dedicated to hotels.   
This machine learning-based tool aims to optimize your ads across all Google platforms to make you visible across all advertising channels: Search, Display, YouTube, Discover, Maps (and Hotel Ads very soon). In concrete terms, by being better represented on Google's many surfaces, you'll gain visibility and reach Internet users more effectively. Google Performance Max for travel goals is already available in our Digital Media Platform.  
Today, consumers have more than 500 digital contact points before making a purchase: Performance Max for travel goals aims to increase the number of contact points with web users during their online research to organize their trip. The key benefits of such a platform are numerous:   
Complementary to your distribution strategies, Performance Max for travel goals helps you reach your objectives while respecting your budget thresholds and direct booking targets.
You can reach a new audience and attract new potential customers thanks to the aggregation of Google channels used for your campaigns and the creation of new advertising formats.
You gain more control with easy-to-implement and easy-to-measure campaigns based on Google's artificial intelligence, without the additional workload. 
Conclusion   
Gaining visibility and direct bookings online is now much more accessible thanks to the various options made available to hoteliers by Google. Both free and paid, all these digital solutions can be used in synergy or independently of each other to boost your direct revenues. Implementing any or all of these Google solutions for hotels will support your sales and help you achieve your online marketing goals.
About Cendyn
Cendyn is a catalyst for digital transformation in the hospitality industry. We help hotels around the globe drive profitability and guest loyalty through an integrated technology platform that aligns revenue, eCommerce, distribution, marketing and sales teams with centralized data, applications, and analytics, so they can capture more demand and accelerate growth. With offices located across the globe, in the United States, France, United Kingdom, Singapore, Bangkok, and India, Cendyn serves tens of thousands of customers across 143 countries. To find out more, visit www.cendyn.com.